A-line dresses (without seams at the waistline) made from medium weight woven fabrics can also hide belly fat, but they are only for girls who don't mind drawing attention to their upper bodies. Consider this option if you have a beautiful bust, or a long neck, or thin arms. With a thicker constitution, the effect may not be desirable.
I didn't think it will work for me but it really did work. I guess the secret here is to make the dress simple and not too tight.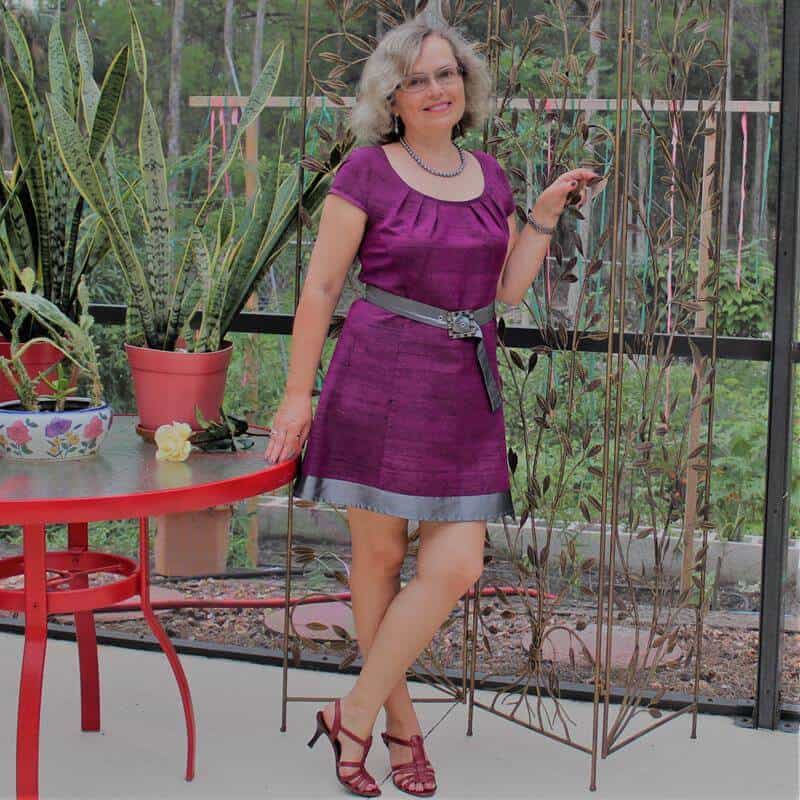 Avoid pleats, folds and gathers at the front in the stomach area, as they emphasize the tummy. Once I decided to use this pattern from Butterick.  And when I put the dress on, I looked like I was 9 months pregnant.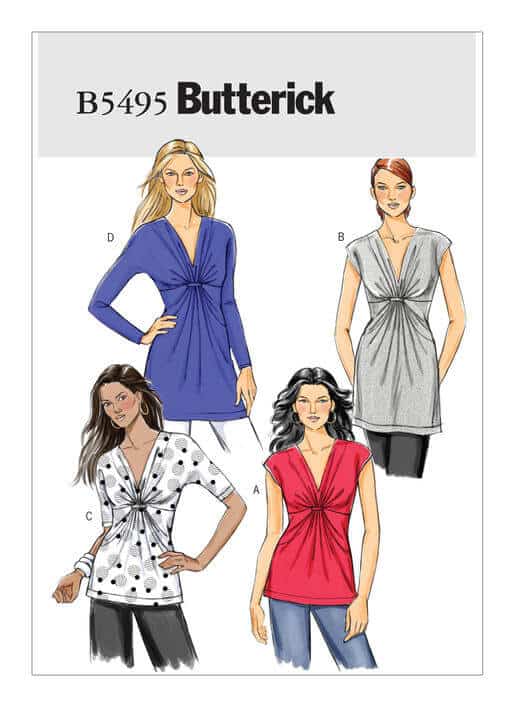 And this pattern with pleats from bust to the bottom didn't work for me.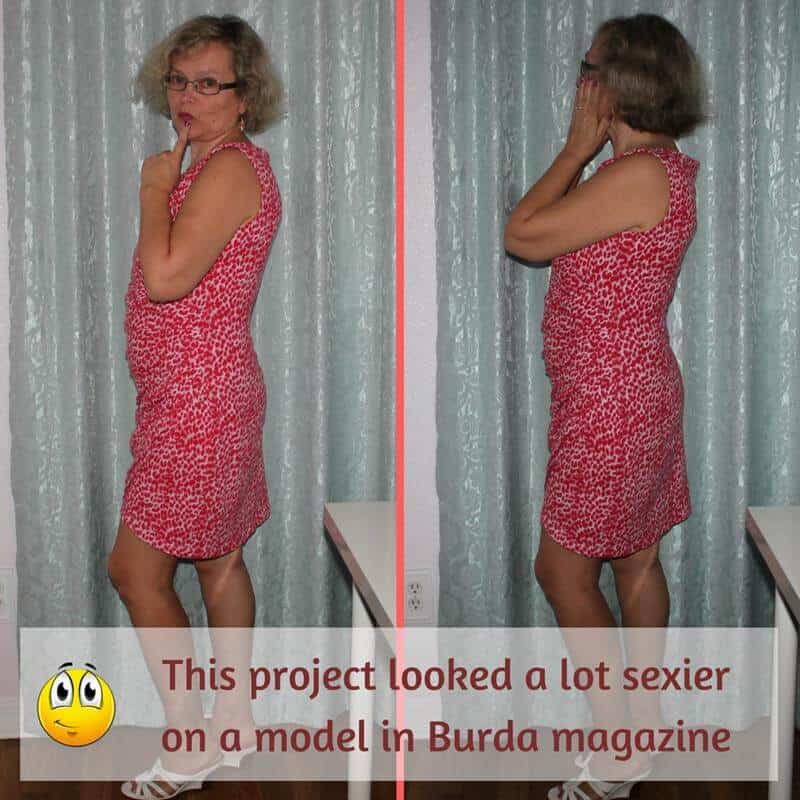 Yet side pleats can hide the tummy very well. I had good luck with patterns like this one below. The folds are made in such a way that the stomach becomes less noticeable under clothing. Actually, I made a number of dresses using a similar pattern and I love to wear them – they really hide what I don't want to show.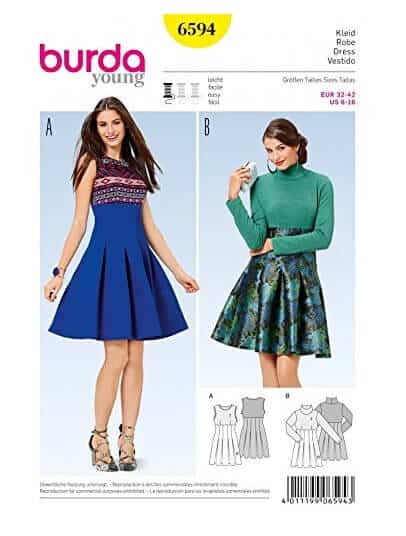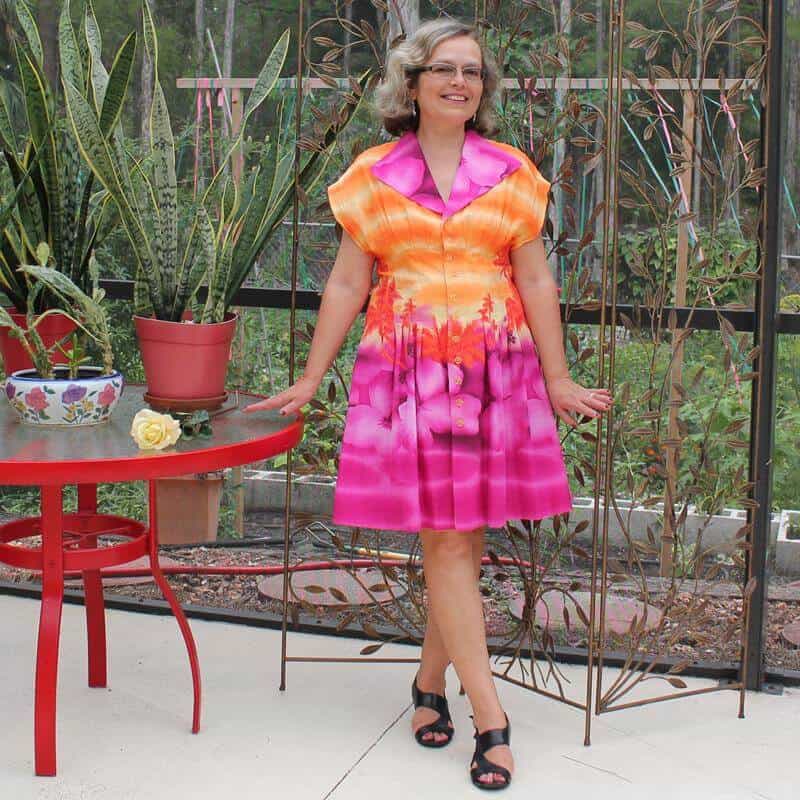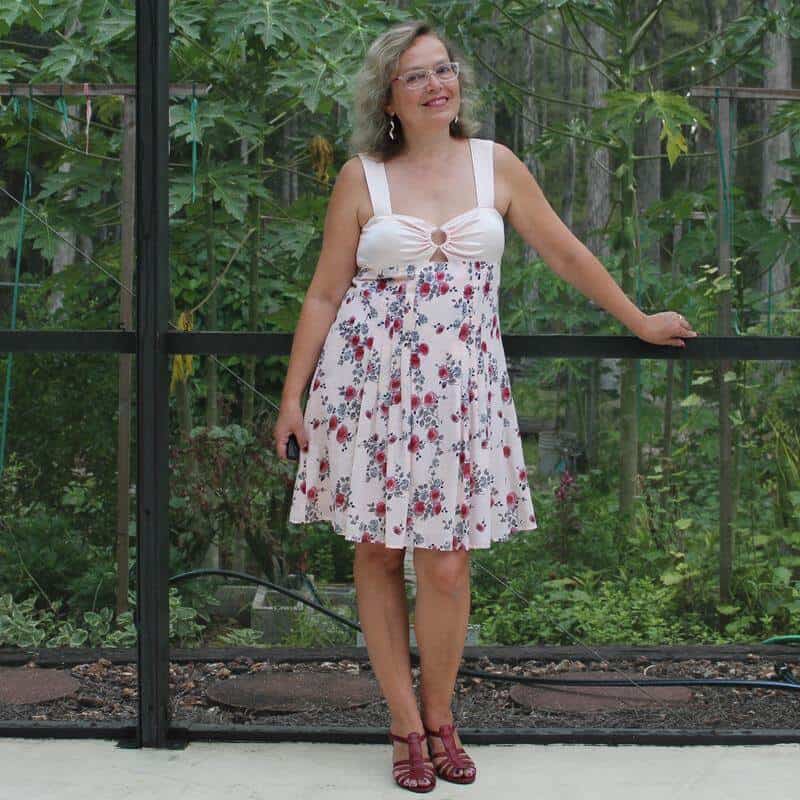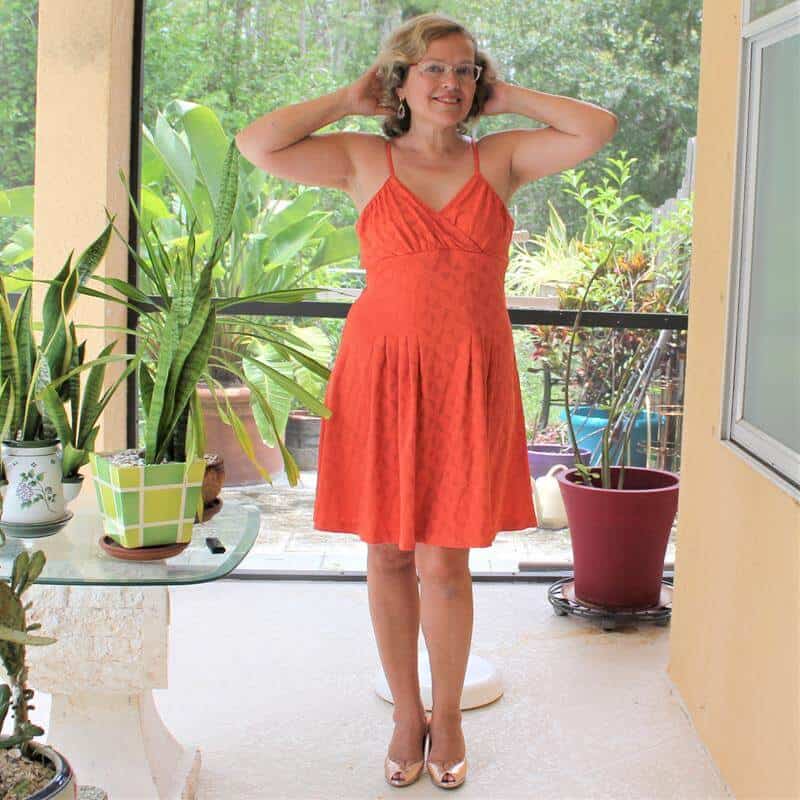 Drop waist options are an effective way to visually combat fullness in the stomach area. But the bottom part of the dress (I mean the skirt) shouldn't be straight or tight – it's better to choose flared or pleated skirts for drop-waist dresses. Also, the skirt should start below the waist but not too low (not under the belly).
If you find my tips helpful, feel free to buy me a coffee and support my blog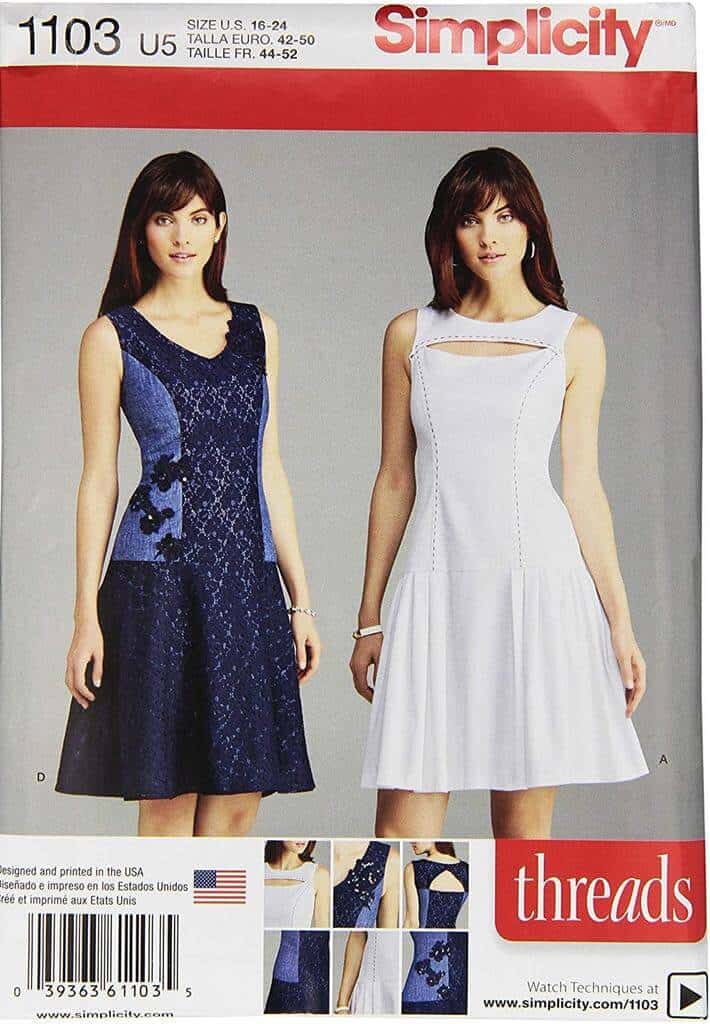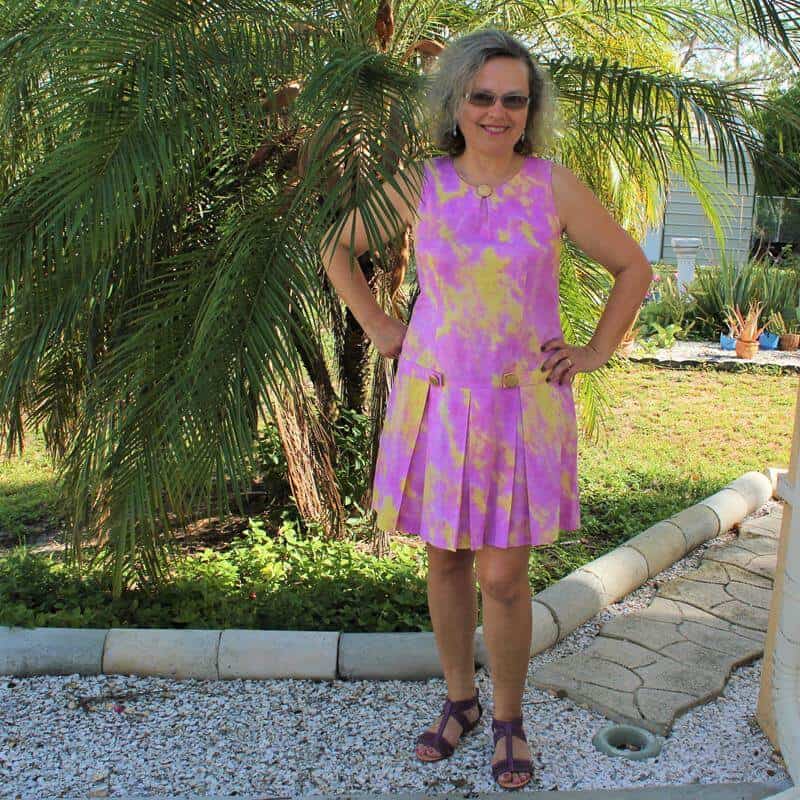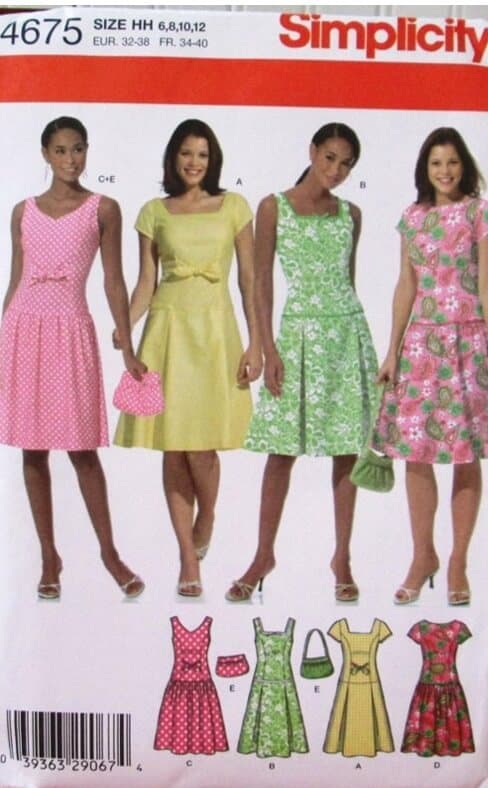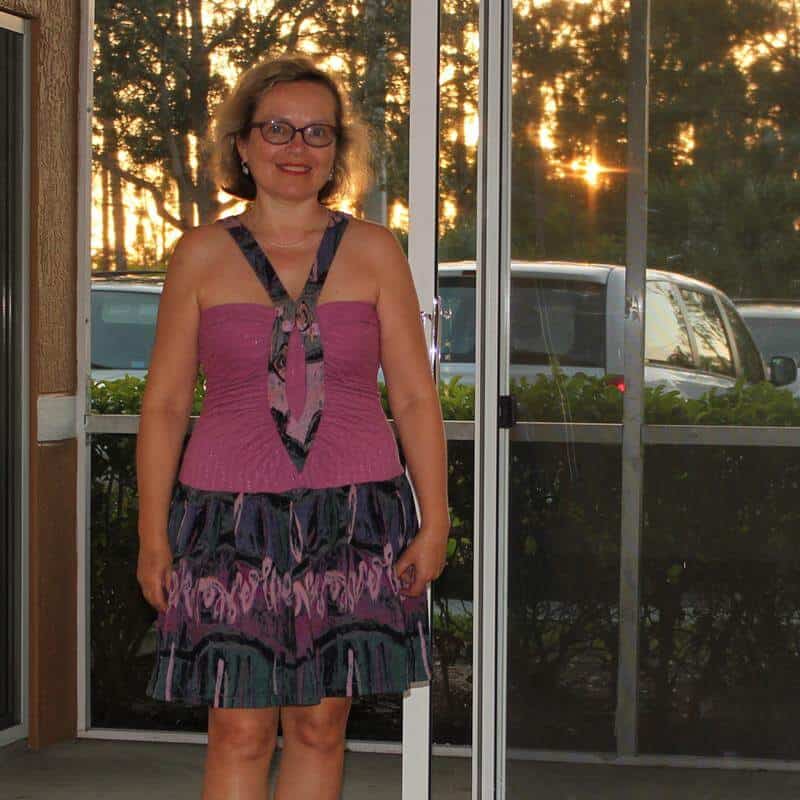 You can also try the opposite style; I had good luck with high-waisted dresses as well. I think they are called "empire waist dresses".  They are very flattering for the thick waist. Actually, I like this kind of dresses the best.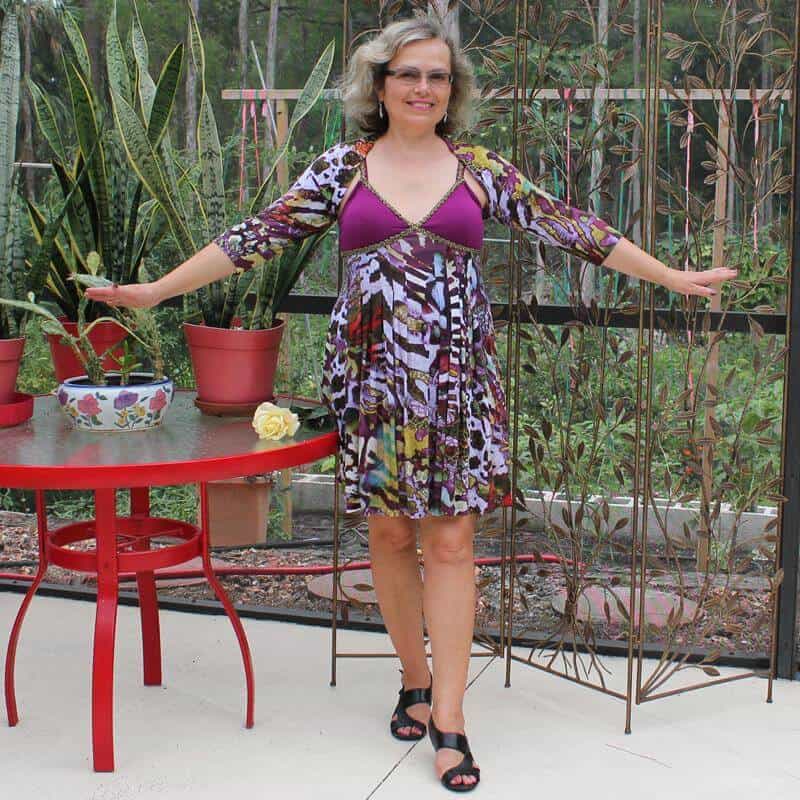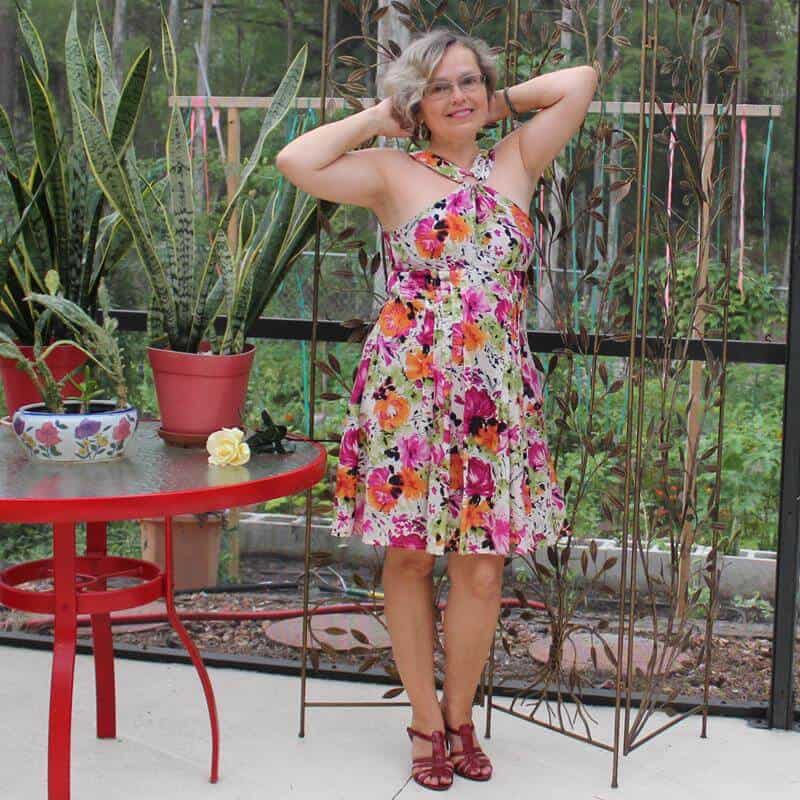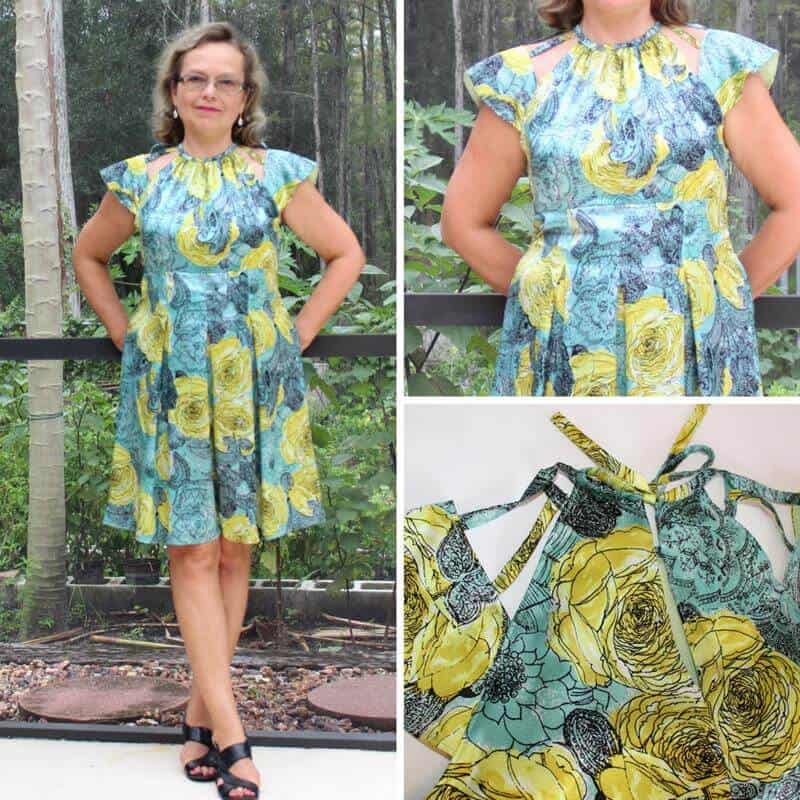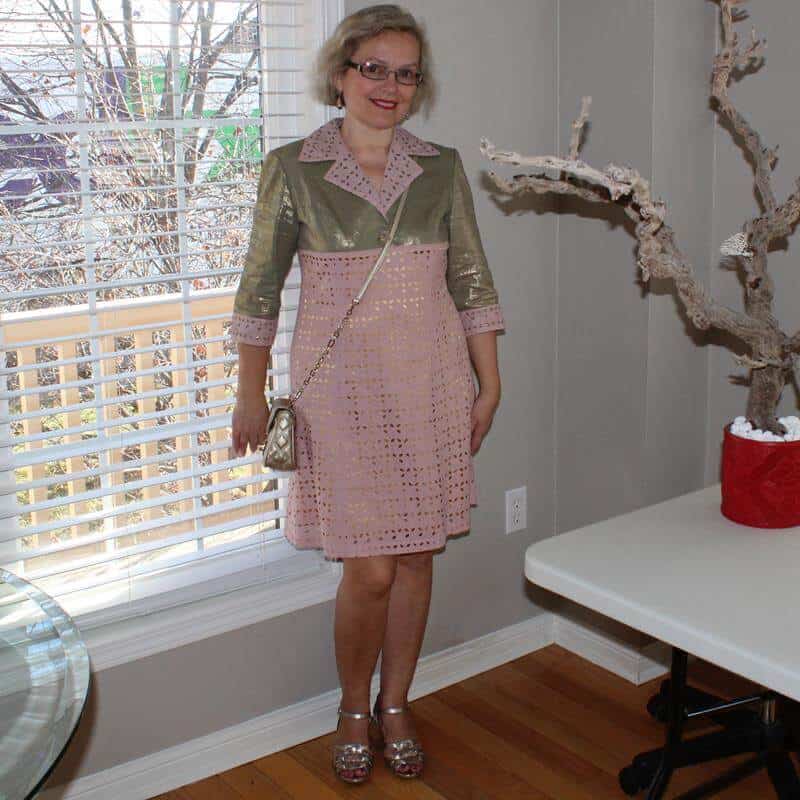 Wrap dresses will also be a great solution: they will give the figure the necessary feminine outlines and hide everything that is superfluous.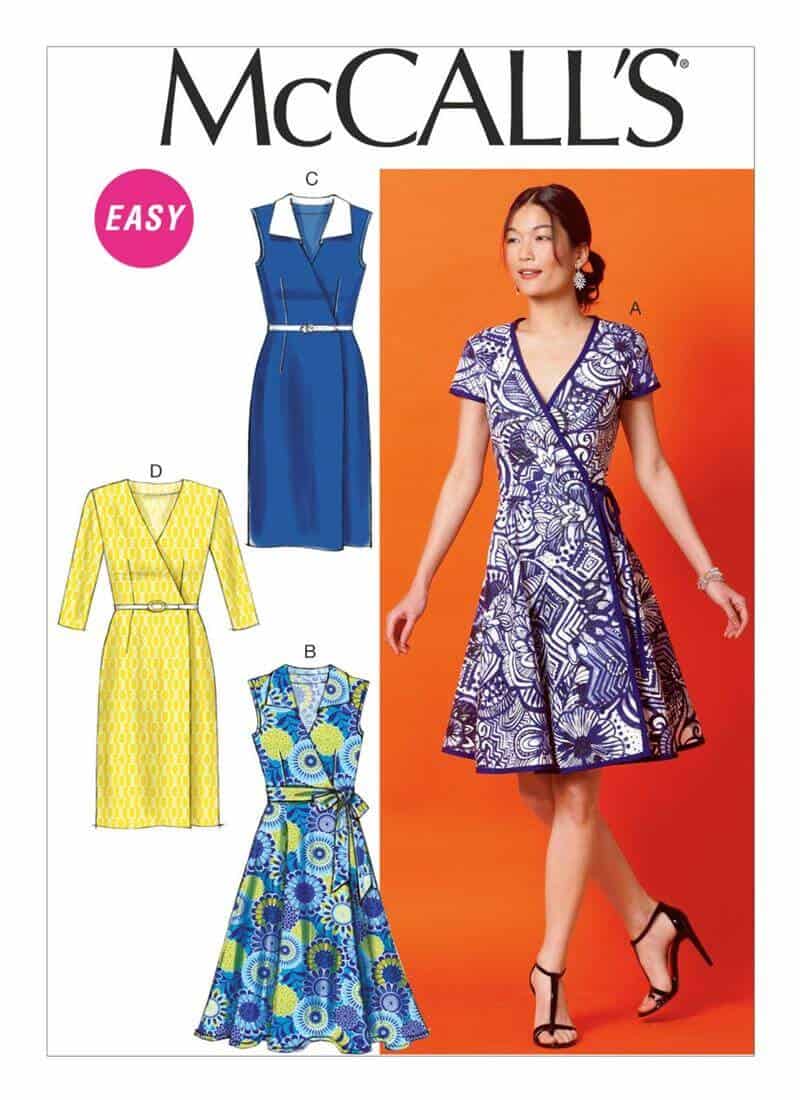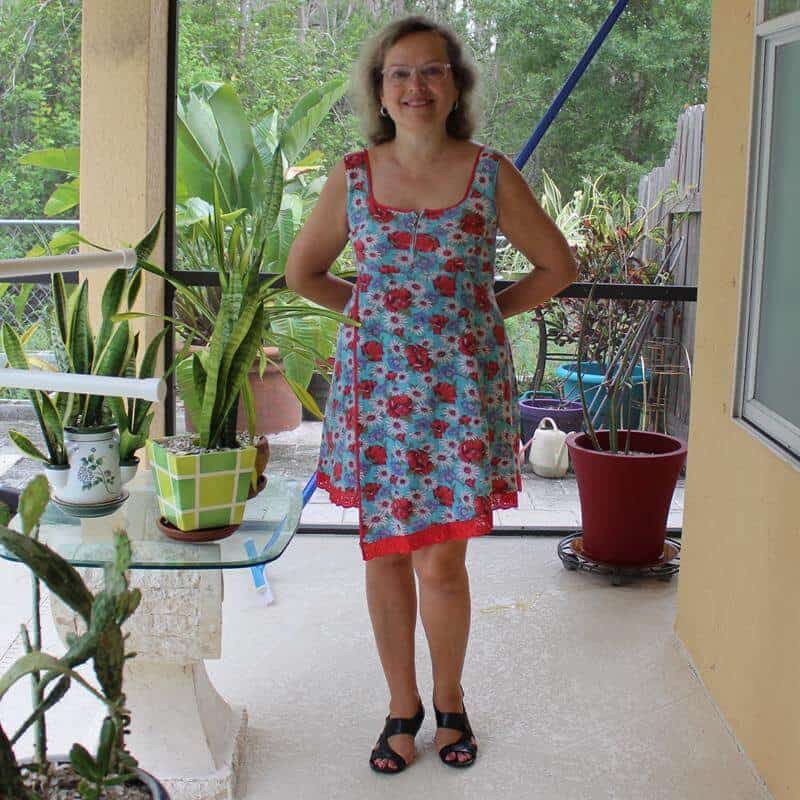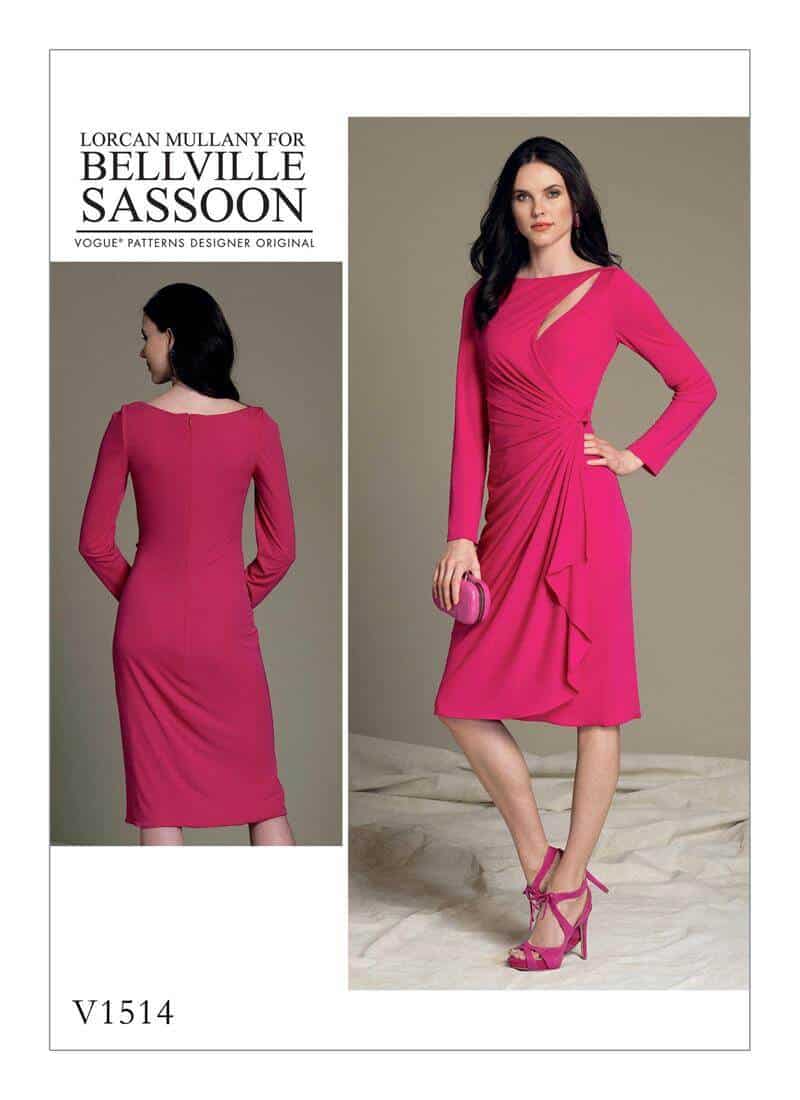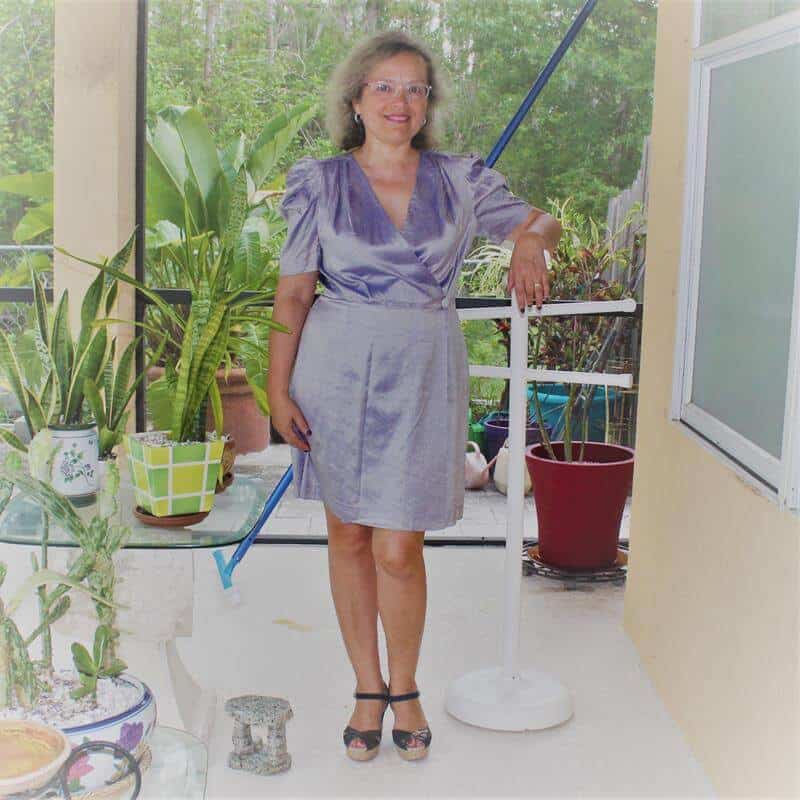 Soooooo… if you are interested in sewing maybe you should read my other tutorials also (see below). These dresses are easy to make even for beginners and (best of all) they don't require any pattern.
Shirt dresses with button closures are another good helpers in hiding the belly bulge.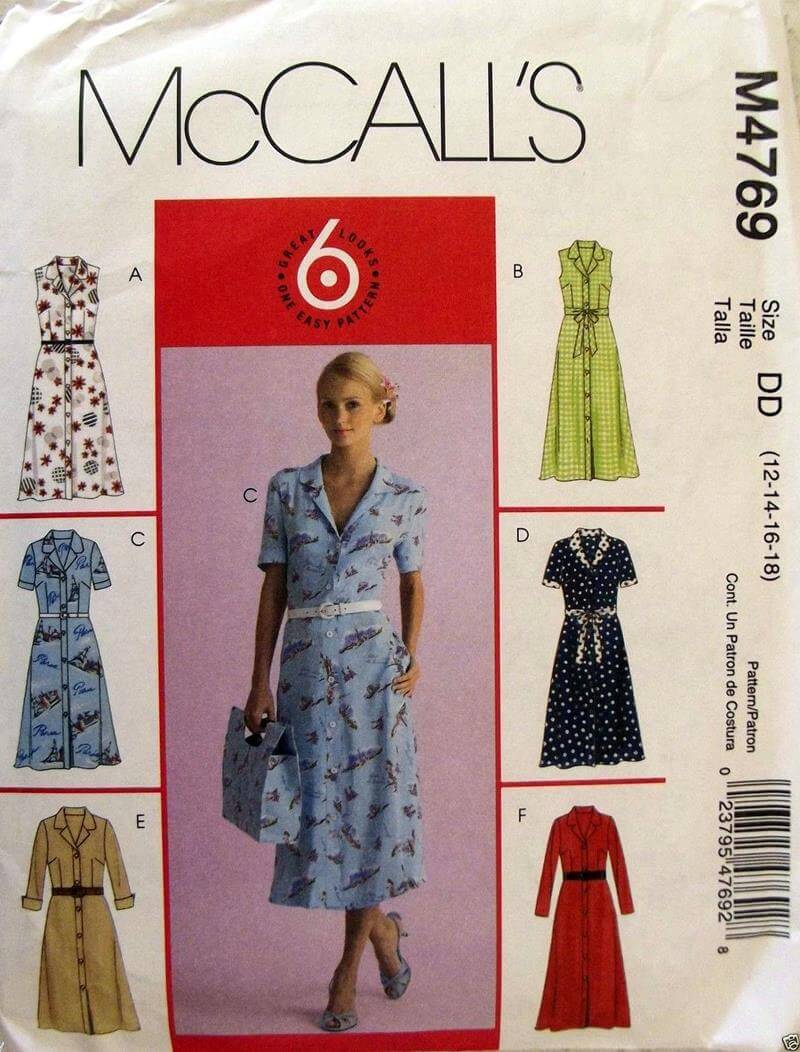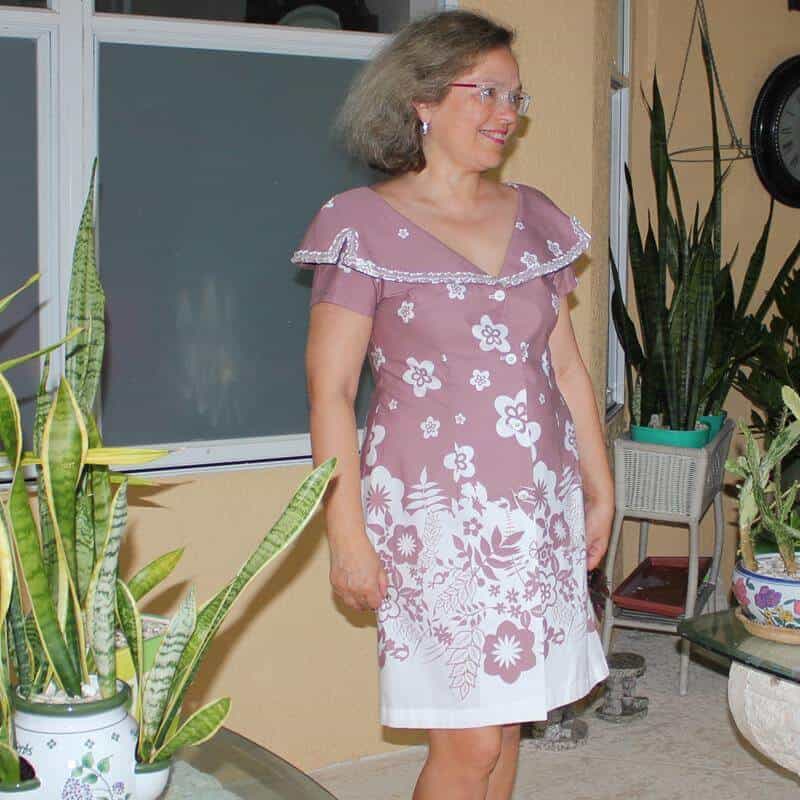 Another secret technique is an asymmetrical closure that runs not in the center of the tummy, but on the side.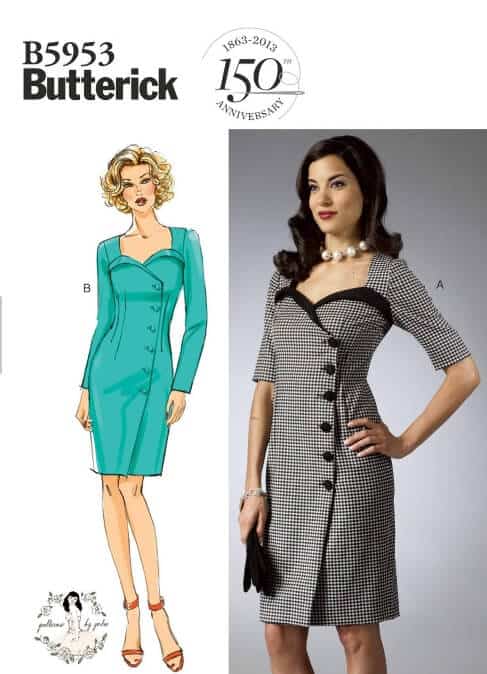 Pay attention to the color blocking and use paneled pieces. Different color inserts on the sides draw a new silhouette and create a good visual deception.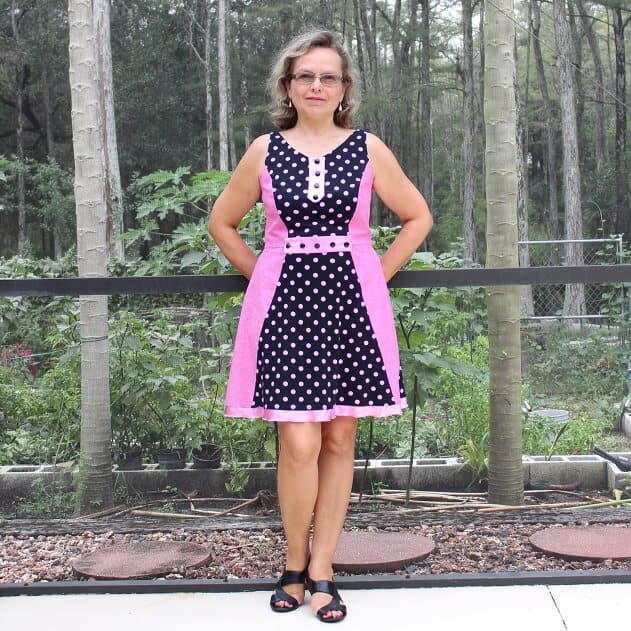 Ruffles, frills, trims and all sorts of decorative elements distract from problem areas. However, this technique does not work so well for women who are larger in general. The formula is simple: the fuller the woman, the simpler the clothes should be.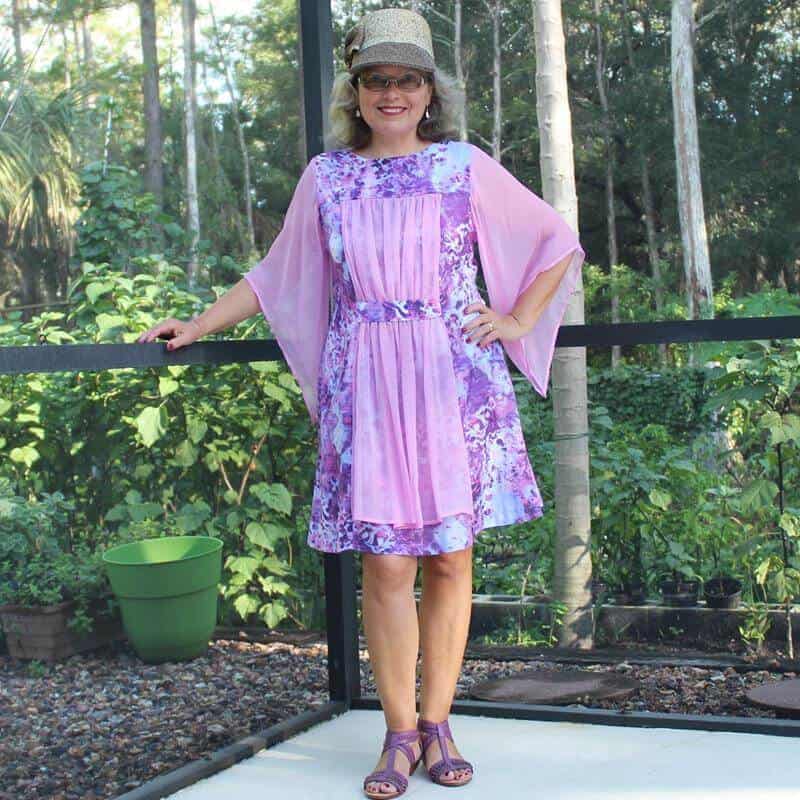 It is worth using narrow belts and ties slightly below the waistline. But don't wear them too tight. Your attempt to hide the protruding belly with the wide belt will result in failure. As soon as you take a sitting position, the treacherous fold will surely show itself. I only have an image of a jumpsuit with the belt (not a dress, but similar).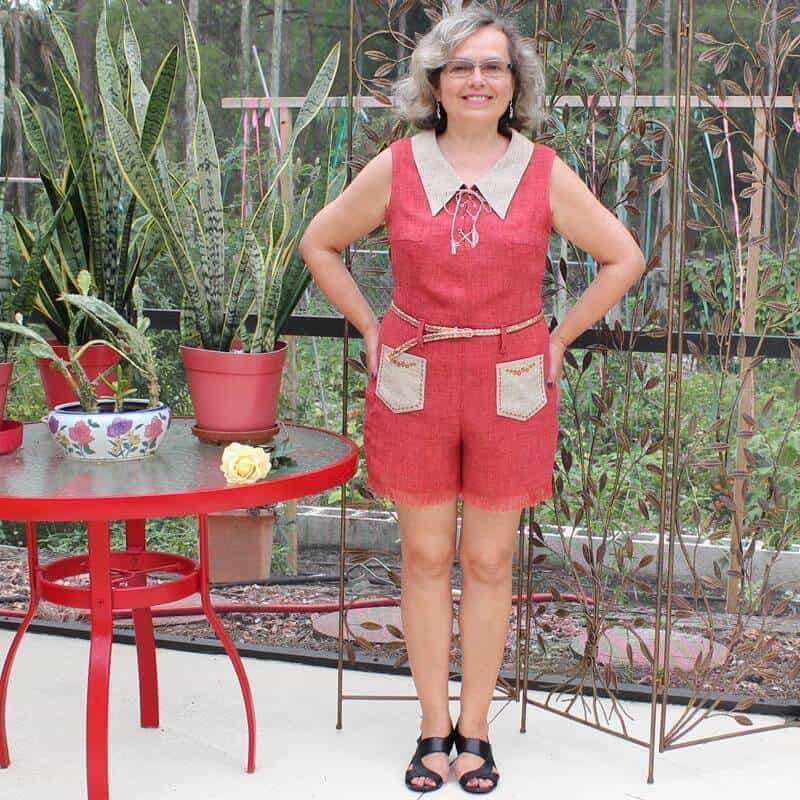 Also, this kind of dresses (see below) can hide the big stomach. I have a tutorial on how to make one of them easily and without a pattern. Check it out.   
Recently I made a very interesting dress (see the image below).
All you have to do to make this stylish flattering dress is cut the fabric – one square and one rectangle and sew only one seam. No pattern required. Super simple. You could literally make this dress in 30 minutes. And the best part is that the dress is ideal for all figure types and you don't need to spend time fitting or tailoring it. Check out my video tutorial on making the dress.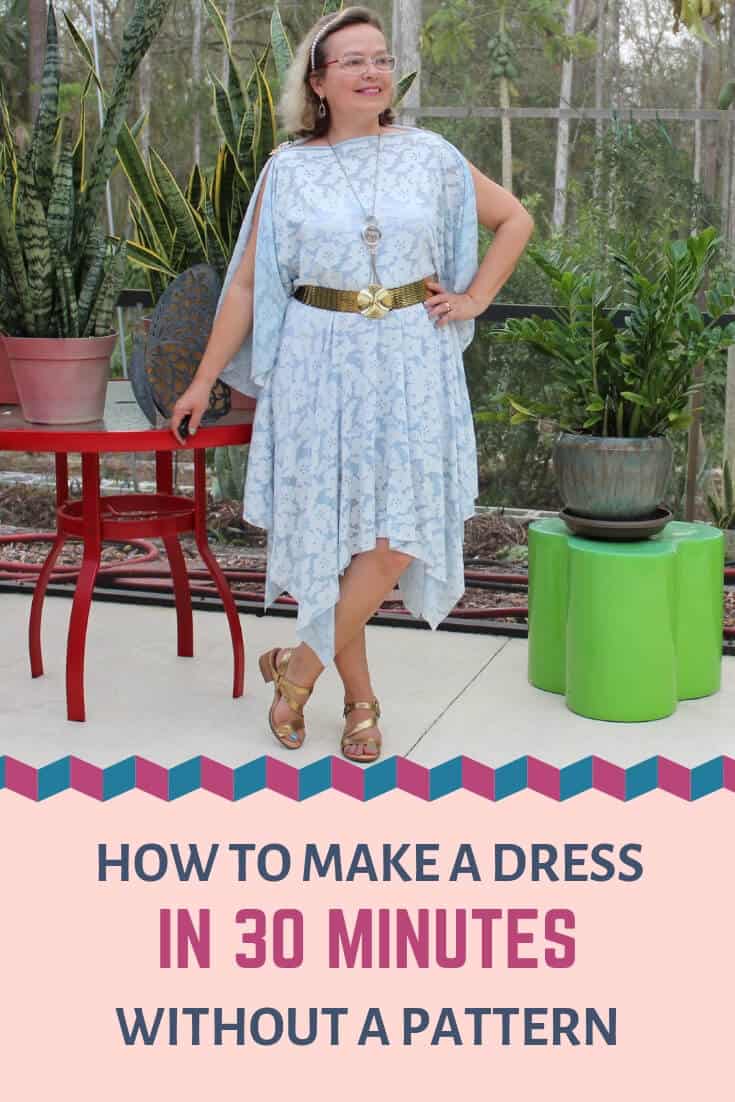 Blouses for visual tummy loss
To safely hide the belly, choose long-cut shirts and blouses. Exclude from your wardrobe all that ends on the waistline and before it.
Choose free-cut shirts, with a light drape from the chest line, or slightly flared silhouettes. T-shirts and sweaters should not be tight. Avoid tight shirts and blouses – strung buttons look ugly.
In the first image below I am wearing a tight t-shirt – and I almost have a muffin top and my belly is visible (even if I tried to take it in and hold my breath). So I am sure the blouse in the second image is more suitable to hide my belly.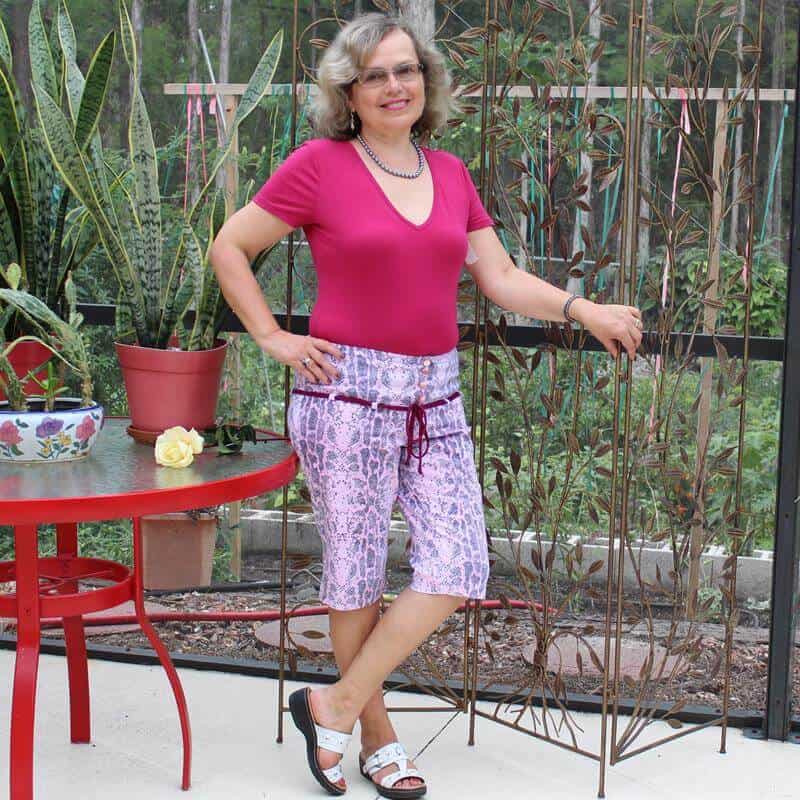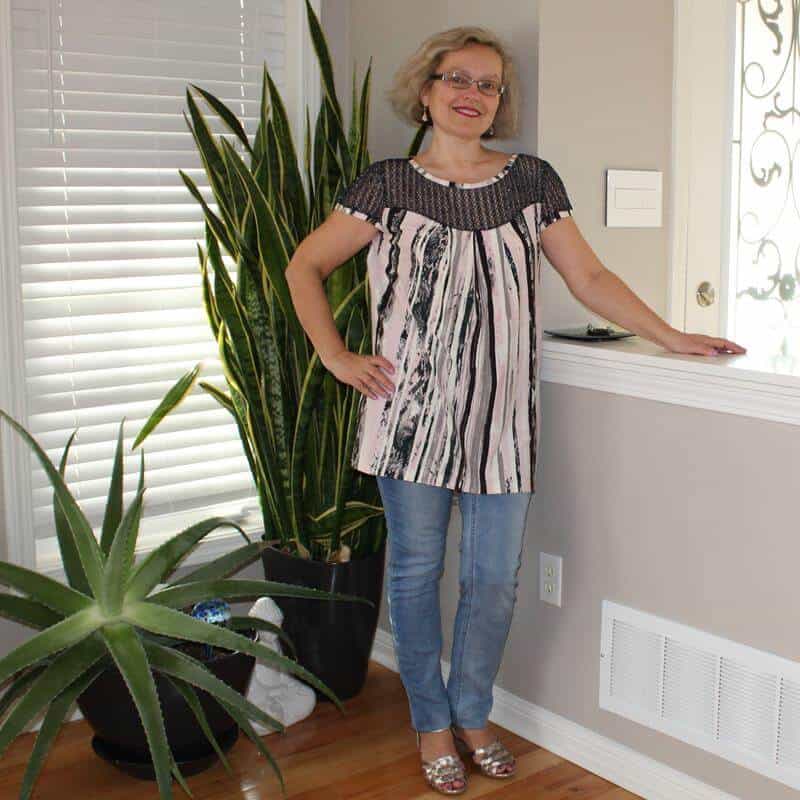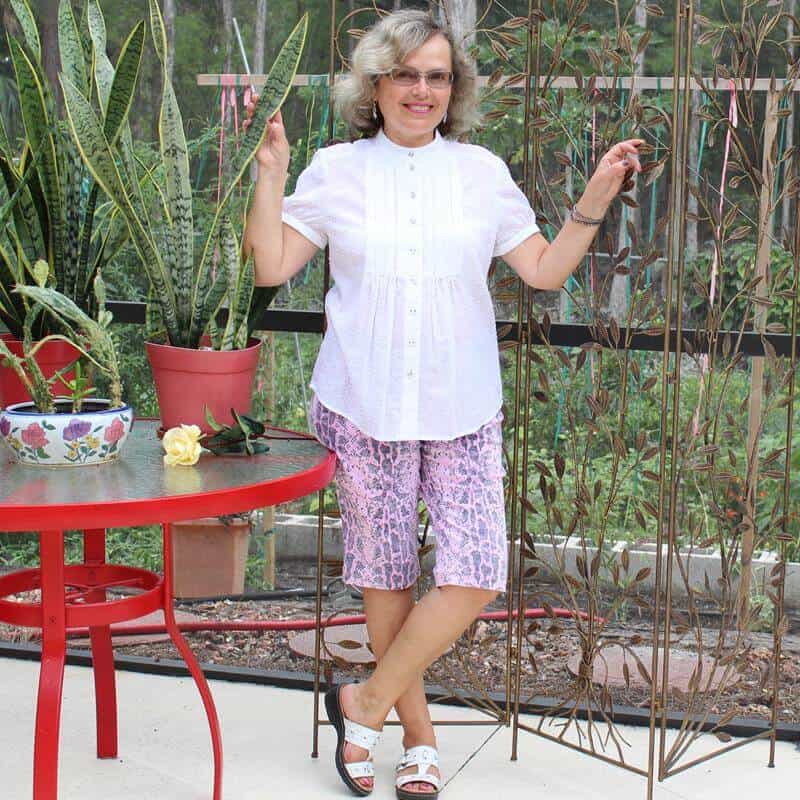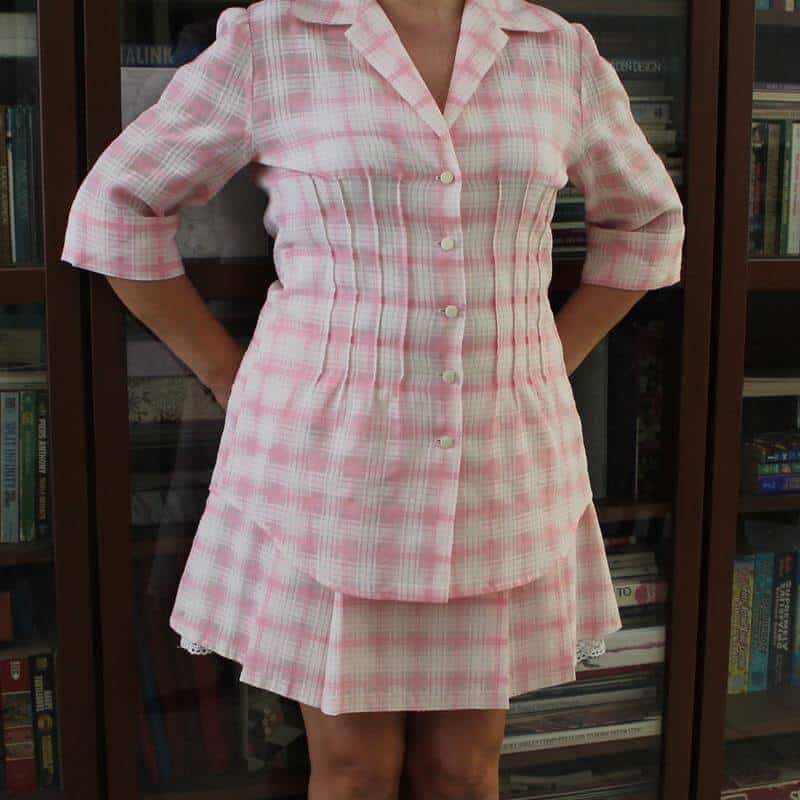 Blouses and T-shirts with a tied hemband just below the waist look very good. As in the case of a dress, the overlap masks the stomach and sides, without making the whole image larger. This option is better suited for straight pants and skirts and is wonderful combined with jeans and short pants.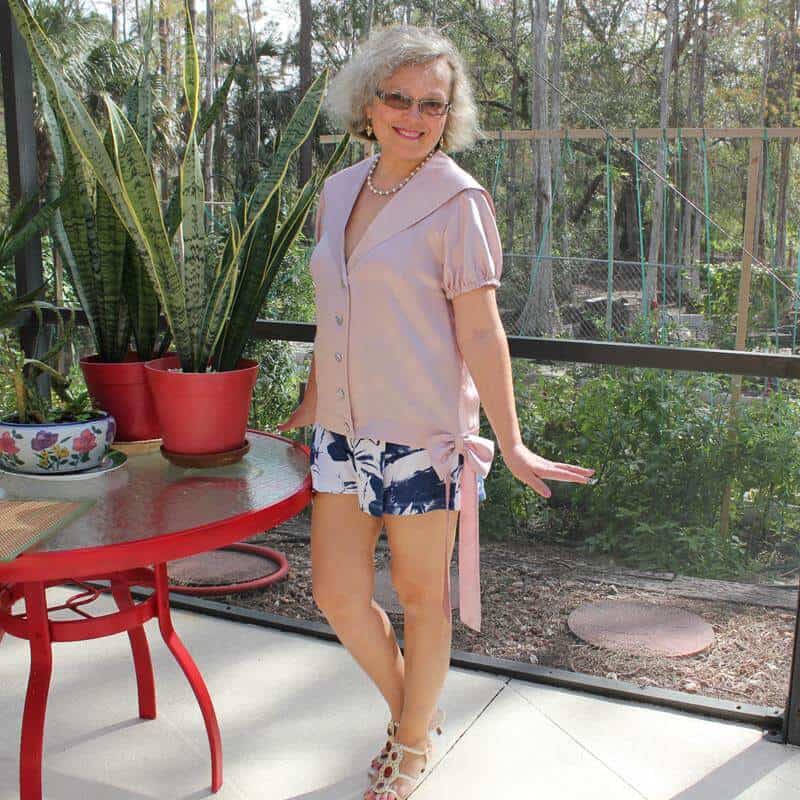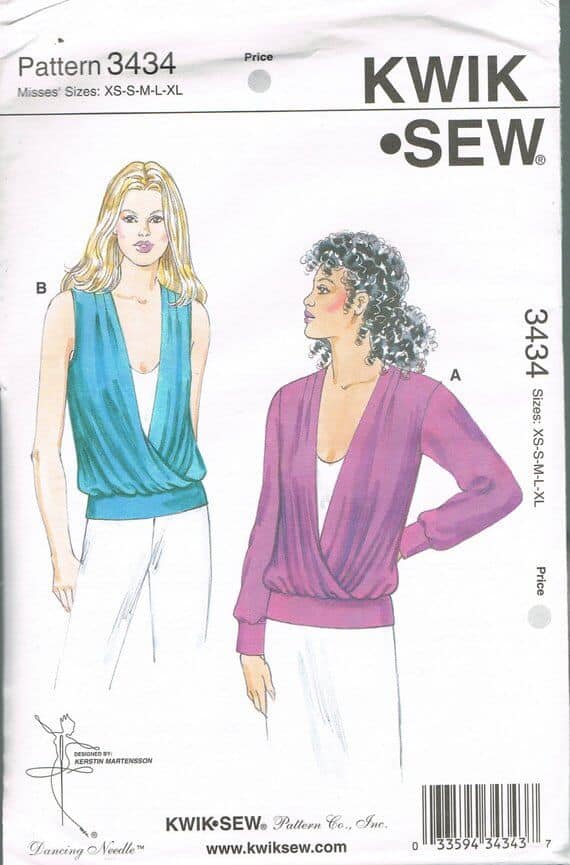 Do not exclude all kinds of decorative layering, also twinsets, shirts and capes worn over the tops and T-shirts. The layering slims and distracts from shortcomings because it has double the layers.
Consider patterns with peplums or pleats starting from the waistline.
Try to shift the focus to other parts of your body: for example, wear a blouse with a décolleté, or pay special attention to shoes and accessories to distract from your belly. If you have a beautiful bust, neckline, and cellulite-free arms, you might want to accentuate these parts of your body with embroidery, applique, nice trims, decorative accents, buttons, collars, etc. (Options are practically endless.)
It's easier to choose how to hide the stomach, if you are wearing leggings or skinny jeans. Slightly flared tunics and long male-style shirts over leggings will be very appropriate here.
I noticed that if you visually increase your breasts, your stomach will look smaller.
Do not tuck shirts, blouses, tops and T-shirts in trousers or skirts.
Make some tops that can be tied in the front above your belly.
Skirts that hide the belly
In order to correctly choose the length and style of the skirt that hides the belly, critically evaluate the size of the waist and the slimness of the legs. If these parameters also need to be camouflaged, trousers might be your best bet. The skirt is not an easy part of the wardrobe in this case. But it doesn't mean that women with larger stomachs can't put on a skirt. This is the wrong mindset to have. It is all about finding the right skirts and pairing them with suitable tops.
A tummy can be hidden under a slightly flared skirt, or skirts with pleats and drapes. You can choose plaid fabric and fabric with lines.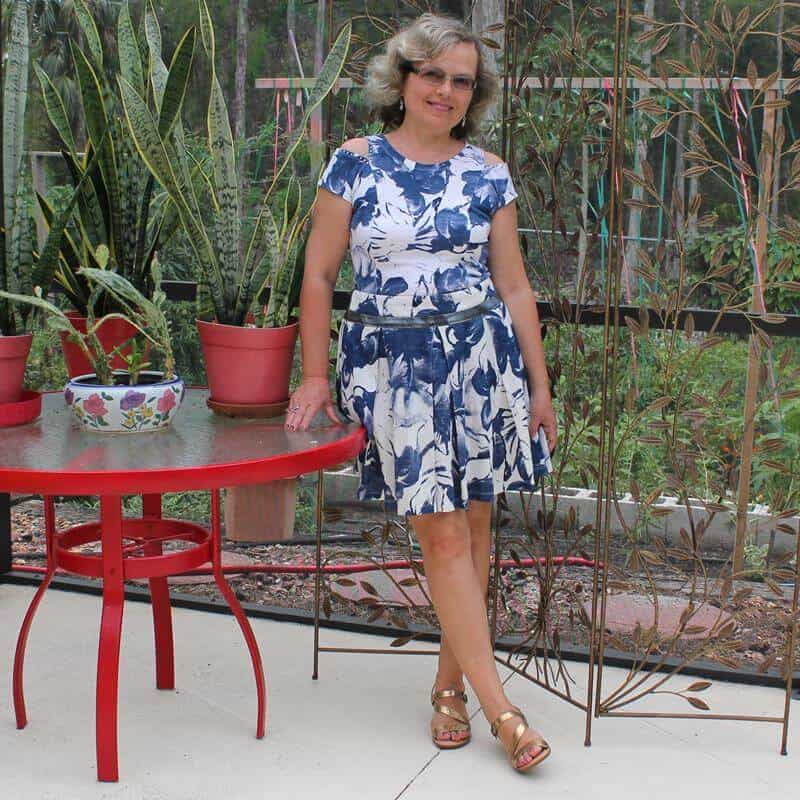 I really like skirts with yokes – they hide the belly bulge very well really.
If you like pencil skirts, choose a model with a peplum.
Or, if you love straight skirts, wear a jacket, a cardigan or an elongated vest to adjust the silhouette.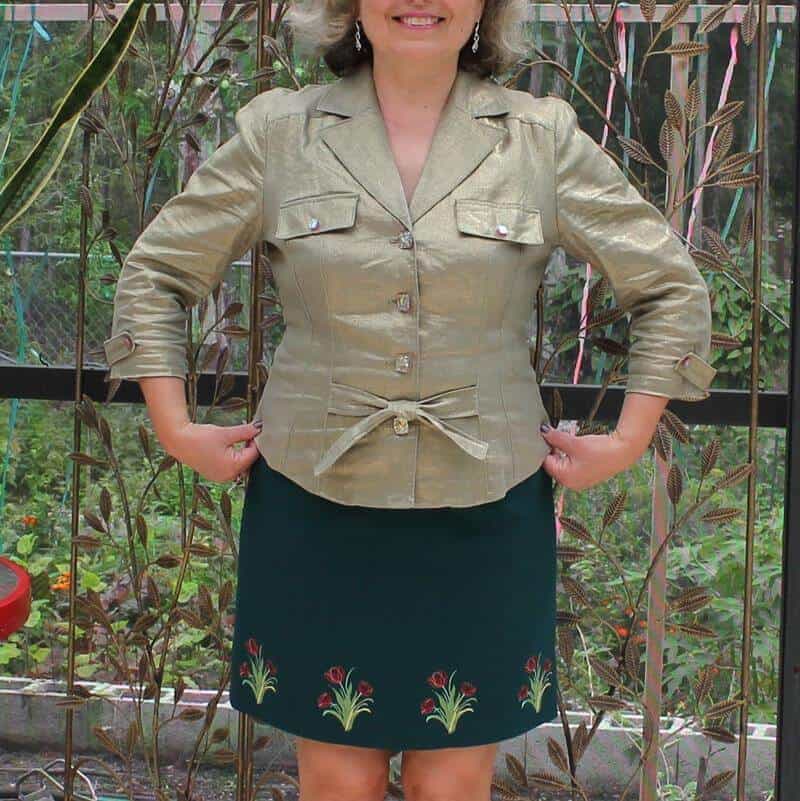 Eliminate tight skirts, as they further emphasize the bulge of the abdomen. Do not make (or buy) tight-fitting outfits, even if they're in your size. You can see that I don't look good in the tight store-bought skirt (in the image below).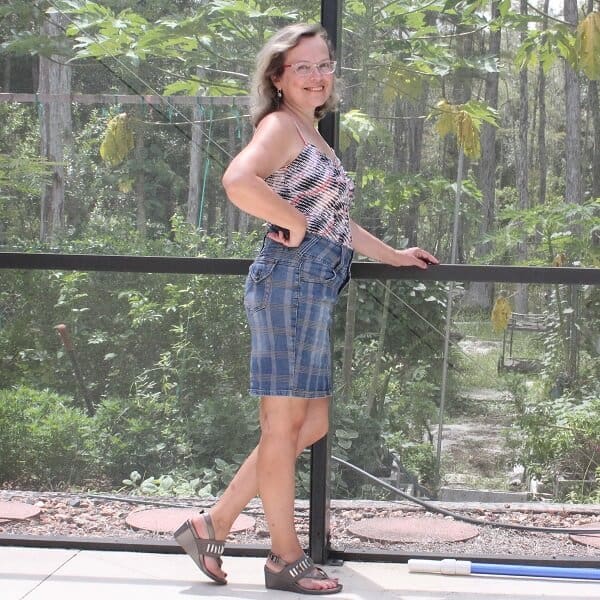 Pay attention to skirts and trousers made of thick fabrics that can support the stomach and thus hide an undesirable shortcoming.
Best pants for a full tummy
Eliminate low-waisted pants – even if you immediately like the overall look in the mirror, after an hour of wearing it, excess fat will be visible.
High-waisted pants and jeans can hide the belly. However, do not think that high-waisted jeans can be worn with short tops and T-shirts. It is better to wear long blouses and tunics, otherwise, the effect may be undesirable.
Straight stretch jeans and leggings visually lengthen the figure and take attention from your flaws.
Swimwear styles to hide belly bulge
How to hide your belly with clothes on the beach? Do you have to swim in a tunic? Of course, you should not rush to extremes and be shy when the vast majority of women can't boast of what is considered "perfect" proportions. Be proud of your assets, and disguise what makes you self-conscious. For example, wear beach dresses to disguise a plump waist, or buy beautiful pareos and learn how to tie them.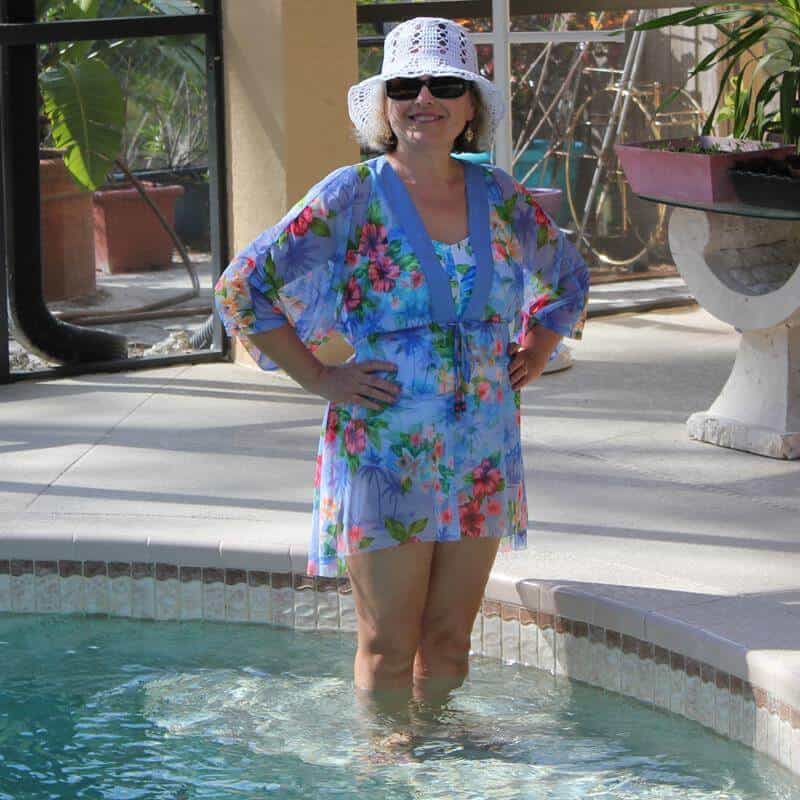 First of all, there are bathing suits with various draperies, with imitation wrap styles, decorative frills, and pleats.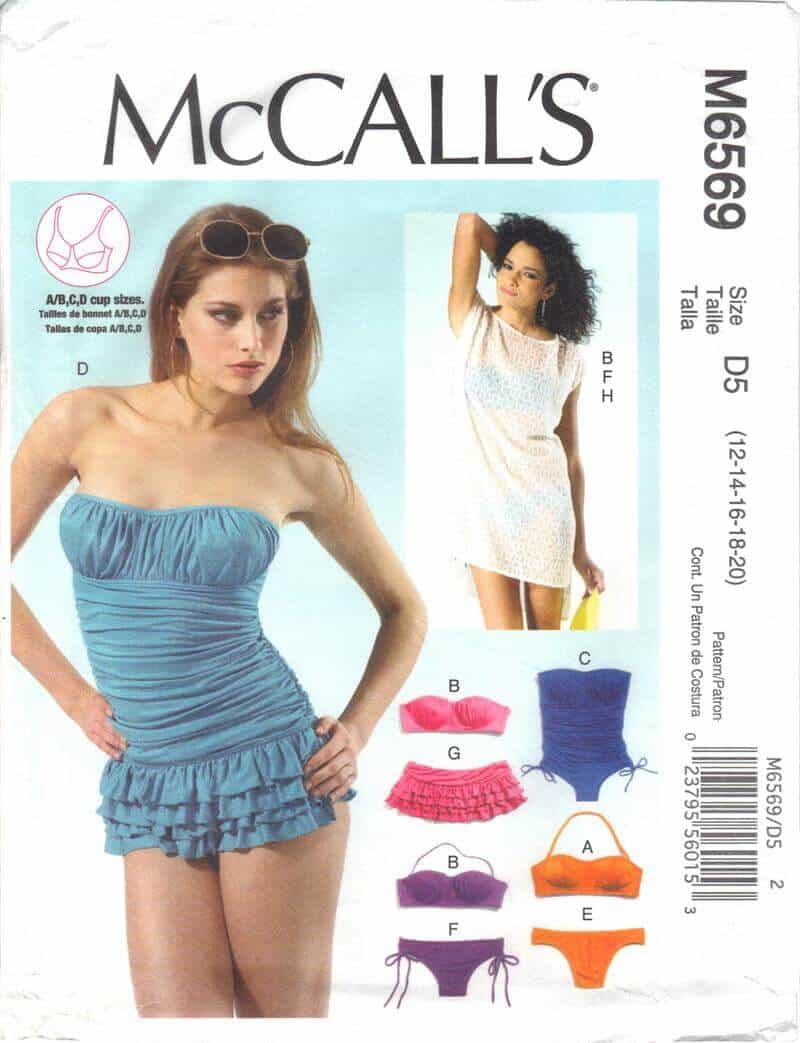 Wear one piece swimwear.
If you prefer separate swimsuits, then wear high-waisted shorts to mask the abdomen. But they are not for everybody.  If you are petite, this kind of shorts reduces your height even more. In this case, it is better to choose a one-piece swimsuit.
Swimwear with mini skirts looks interesting. Conveniently, if this skirt can be tied at the waist, you can remove it during your swim.
Note: This guide contains affiliate links, which means I may receive a commision if you order a product through one of my links. I recommend these products because I use them myself, and being an affiliate for them allows me to make money to keep running my blog ageberrycom.bigscoots-staging.com. Remember that for each product, there are obviously other options out there. Thank you for your support!
Shapewear for women tummy control
Ideal to help you in this situation is slimming underwear: lightweight spandex body shapers. Did you try wearing any? I tried recently a few styles and was surprised at how comfortable it was to wear under my dress. I am not completely out of shape without it but really it helps to look slimmer.
Now, I guess, slimming underwear is ten times more comfortable and less noticeable than the corsets of the ladies of the last century. I saw online that the most popular styles that hide the belly under clothes are high-rise underwear, which goes all the way up to under the bra. So I bought it and tried it. It worked but after a half an hour wearing it these completely rolled down, defeating the purpose of buying them for hiding the belly bulge. So I do not recommend it but it may work for you as I read lots of good reviews.
Arabella Women's Shine High Waist Thigh Control Shapewear with Spacer, Black, Small
1 new from $4.12
Free shipping
as of September 11, 2020 5:26 pm
Features
A mid-thigh short silhouette with high-waist tummy-control panels make this a staple shapewear base that can be worn under almost any ensemble
Offers contouring compression, our moderate level of control that smooths without squeezing
Take your measurements and consult our size chart to choose which size will fit you best. For firmer control, Arabella recommends sizing down.
Now I have a variety of different shapewear products. And the best ones that work for me are the full body slips shapewear with adjustable straps that I can pull on my shoulders. They look so small that it's hard to believe the slip is going to fit,  but after I manage to put it on it provides good control and hides the belly and I feel that I look good in my tight dress. The length goes to my mid-thigh and does not ride up. Such underwear hides not only the belly, but slims the waist and sides, visually reducing fullness there and giving you that ideal hourglass shape.
Arabella Women's Firm Control Seamless Slip Shapewear, Black, Large
out of stock
as of September 11, 2020 5:26 pm
Features
Mid-thigh shapewear slip with adjustable straps
Offers firm compression, our highest level of compression for increased shape and support
Powerful allover shaping helps create the appearance of a flatter tummy
Smoothes curves
Take your measurements and consult our size chart to choose which size will fit you best
Arabella Women's Firm Control Open Bust Slip Shapewear, Nude, Medium
out of stock
as of September 11, 2020 5:26 pm
Features
Shapewear slip with curve-defining seams and X-back convertible adjustable straps
Offers firm compression, our highest level of compression for increased shape and support
Wear with any bra
Helps create the appearance of a flatter tummy
Take your measurements and consult our size chart to choose which size will fit you best
By the way, do you know about the new Amazon Prime Wardrobe program?
Amazon says Prime Wardrobe is a new service that "brings the fitting room to you, so you can try on the latest styles and find your perfect fit before you buy." You can order clothes, shoes, and accessories and you get seven days to try them out. You will be only charged for items you want to keep. But this program is only for Prime members so subscribe below (through my affiliate link please)  to Amazon Prime to take advantage of the service.
Amazon Prime is a paid membership program that gives you access to free shipping on Amazon, as well as many other services, for example, you can stream video and music. There are several Amazon-specific services and deals included in the membership. It costs $119 per year or $12.99 per month.
Try Amazon Prime 30-Day Free Trial
Want to know more about Prime Wardrobe program?
Check out the Prime Wardrobe website for more details.
When choosing corrective underwear, feel the seams; they should be flat so as not to stand out under the clothes. For summer, buy a correction with mesh inserts when choosing panties, so that they are not hot. And don't look for cotton in the material list – such products are produced only with synthetics.
If you follow these simple rules, you will not only be able to hide your shortcomings, but turn them into real virtues. Most importantly, you should not focus on your figure's problems, since "ideal" women simply do not exist. If you overcome your complexes within your own mind, none of those around you will even notice what you consider as flaws. Remember: a less-than-perfect figure is a mere trifle in life. The main thing is that you are a kind, sympathetic, and sincere, and that you believe in yourself and in your right to happiness. Fortune will surely smile on you then!
Now, I wonder: what do you think? What is working for you? What styles do you choose that are comfortable and flattering and suit your body?
Ready to take the next step in your sewing journey?
Check out more step-by-step tutorials from my blog